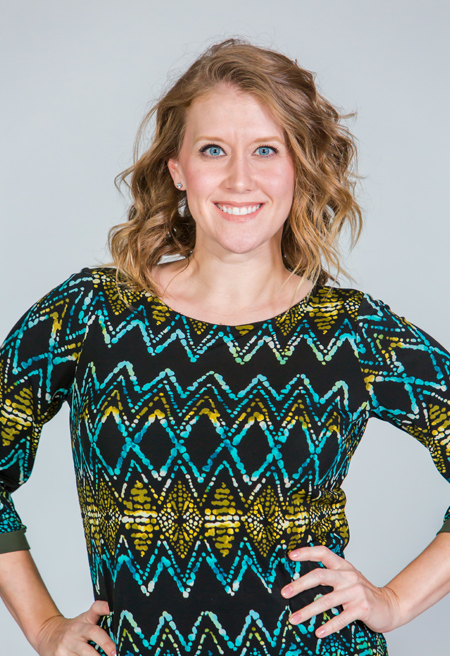 Michelle Simpson
Michelle moved from Corpus Christi to the "big" city of Lubbock, Texas  almost 10 years ago.  There she studied mass communication, theatre, and vocal performance at Texas Tech University.  No sooner than her roots started to sprout she moved east, to The Woodlands, Texas to pursue her career in a larger city with more opportunities.  She quickly  found work in an industry she never thought about exploring…the water industry.   Who knew a girl from the "Sparkling City by the Bay" would be trying her hand at public relations for a governmental agency.  Desperate to tap into her "theatre kid" passion, Michelle started collaborating with the SaveWaterTexas Coalition on public outreach and education campaigns.  It is there she was able to take on the persona of Patty Potty, the spokesperson for SWTC's No Wipes in the Pipes educational campaign. She is very grateful to be part of an uber-talented group of creative folks. In her free time, Michelle loves to watch the Dallas Cowboys!  She also enjoys live theatre and visiting local museums.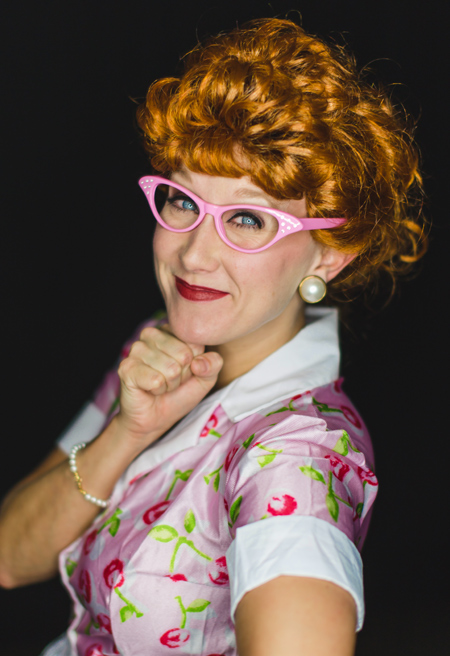 Patty Potty
She's a 1950's housewife… somewhat prissy, often bossy, and completely in charge of her home and family. Patty takes a "just between us girls" approach, correctly figuring that it will be the women of the household who will solve the WIPES IN THE PIPES problem. Patty is a likeable messenger who, armed with her pink plunger, is on a mission to put an end to stuff being flushed down toilets that ends up costing everyone money.  Patty urges people to join her "Potty Patrol" to help protect water quality and the environment — by taking actions that will help prevent costly plumber bills and water treatment plant repairs, as well!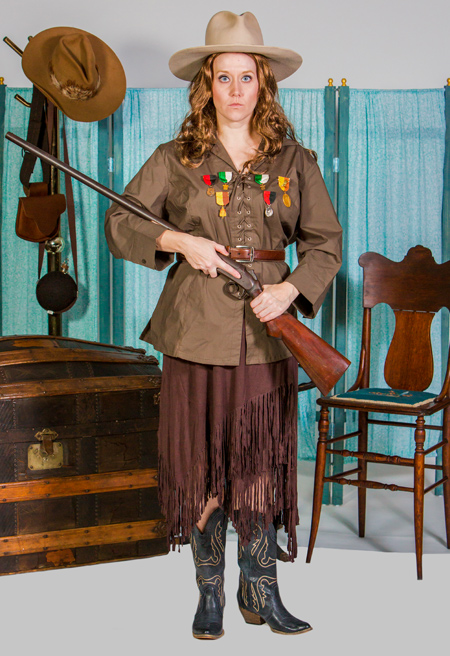 Annie Oakley
(A Women of the West "personality"– August 13, 1860 – November 3, 1926)
Phoebe Ann Moses – later known as Annie Oakley – had a less than idyllic childhood, spending most of it in an orphanage in Ohio.  She developed an amazing talent for something not usually associated with young women…superb marksmanship, and became so skilled in fact, that she was able to make a good living hunting game for a local grocery store. She began competing in shooting events and, during a Thanksgiving shooting competition in 1875, she met Frank E. Butler. This top shooter and vaudeville performer swept her off her feet, and their marriage lasted 50 years! They began working together professionally in 1882…when she became known as ANNIE OAKLEY.
In 1884, Annie met Native American leader Sitting Bull.  He was so impressed with her shooting abilities that he 'adopted' her and called her "Little Sure Shot". Annie and husband joined BUFFALO BILL'S WILD WEST SHOW in 1885 and toured with the show for more than a decade and a half. In her amazing act, she would not only shoot off the end of a cigarette that her husband held in his lips, and shoot distant targets while looking in a mirror. They entertained audiences all over the world and once even had the opportunity to perform for Queen Victoria
In 1901, the couple was in a horrible railroad accident and although Annie was partially paralyzed for a while, she was soon back performing with Frank managing her career. She appeared on stage in the 1903 melodrama "The Western Girl" then joined the "Young Buffalo Show" in 1911, then the "Wild West Show", gave numerous sharpshooting exhibitions, and taught marksmanship to other women. After being severely injured in an auto accident in the early 1920s, she was only able to perform for a brief time in 1924, but things were never quite the same after that.
It all came to an end on November 3, 1926 in Greenville, Ohio. News of Annie Oakley's death saddened the nation and tributes poured in from around the world. And, as if the loss of his shining star was more than he could bear, Frank died just 19 days later. Annie's legacy lives long after her death, and her legendary stick-to-it-intuitiveness made her a role model for young girls everywhere. Her message is one of persistence…
"Aim at a high mark and you will hit it. No, not the first time, nor the second and maybe not even the third. But keep on aiming and keep on shooting, for only practice will make you perfect. Finally, you'll hit the Bull's Eye of Success."